RentTracer Software for Rental Property Management
RentTracer is a program for property management companies and landlords. The software is user friendly and transparent; your staff will require little or no training to run it, just a basic understanding of Windows. RentTracer is suitable for both landlords and estate agents.
The program does not have all the features of software costing many times the price but if you need a simple program for keeping track of your properties, something you can understand intuitively without hours and hours of training, then please give RentTracer a try.
By clicking on the "Download RentTracer" button, you can download a free evaluation copy of RentTracer, which is fully functional but is limited to 5 leases.
System requirements:

PC with Windows 98, Me, 2000, NT, XP, Vista, 7, 8 and 10. &nbsp&nbsp&nbsp&nbsp&nbsp&nbspYes, it works with Windows 10
Minimum of 16 MB RAM.
Minimum screen resolution 800 x 600.
Pricing:
The price for a single site licence is £130.00. There are no monthly fees and the price includes technical support by phone and email.
Click here for currency converter.
Summary of features:
Property database (including sub divisions)
Landlord database
Tenant database
Database of service providers (eg plumbers, electricians)
Calculation of amounts owed by tenants
Calculation of amounts due to landlords
Calculation of amounts due to service providers
Occupancy chart
Reminders

Calculation of amount retained by management company
Password protected setup
Data file backup
Comprehensive reports
Option to export reports to Excel
User manual as HTML document
Email receipts, reminders, etc to tenants
Maximum 10,000 properties
End user licence agreement | How to uninstall the program
RentTracer is published by GrenSoft. Clicking on the download button will take you to the primary distribution source for RentTracer software.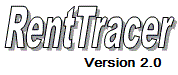 Software for rental property management
by GrenSoft
Phone: 01157 180244