KennelMate Software for Boarding Kennels and Catteries
KennelMate is a program for boarding kennels and catteries with up to 200 boarding units. It is user friendly and transparent, your staff will require little or no training to use it, just a basic understanding of Windows.
By clicking on the "Download KennelMate" button, you can download a free evaluation copy of KennelMate, which is fully functional but is limited to 25 boardings.
System requirements:

PC with Windows 98, Me, 2000, NT, XP, Vista, 7, 8 and 10. &nbsp&nbsp&nbsp&nbsp&nbsp&nbspYes, it works with Windows 10
Minimum of 16 MB RAM.
Minimum screen resolution 800 x 600.
Pricing:
The pricing for a single site licence is as follows:
Mini version - Companies with up to 25 boarding units: £160.00
Midi version - Companies with 26 to 75 boarding units: £200.00
Maxi version - Companies with 76 to 200 boarding units: £240.00

NEW!!
Accept bookings online
End user licence agreement | How to uninstall the program
KennelMate is published by GrenSoft. Clicking on the download button will take you to the primary distribution source for KennelMate software.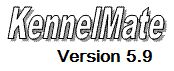 Boarding Software by GrenSoft
Phone: 01157 180244






For recommended POS hardware please visit
The Epos Store.