ConTrak Software for Construction Equipment Tracking

ConTrak is a Windows based software package for the management of equipment rentals in the construction industry. It has comprehensive features but is very simple to use; your employees will require very little training. The software is network ready, and there is no additional charge for running the program on multiple workstations.

By clicking on the "Download ConTrak" button, you can download a free demonstration copy of ConTrak, which is fully functional except that the number of equipment items is limited to 20.
System requirements:

PC with Windows 98, Me, 2000, NT, XP, Vista, 7, 8 and 10. &nbsp&nbsp&nbsp&nbsp&nbsp&nbspYes, it works with Windows 10
Minimum of 16 MB RAM.
Minimum screen resolution 800 x 600.
Price:
The price of the ConTrak site licence is £175.00. This is a one time payment which includes support by phone and email. There are no hidden extras. The program can be networked.
End user licence agreement | How to uninstall the program
ConTrak is published by GrenSoft. Clicking on the download button will take you to the primary distribution source for ConTrak software.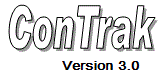 Software for Construction Equipment Tracking
by GrenSoft
Phone: 01157 180244






For recommended POS hardware please visit
The Epos Store.