ClubManager Software for Club Management
ClubManager is a program for the management of clubs such as tennis, squash, cricket, rugby, bridge and social clubs. The Windows style design ensures that the software is user friendly and transparent.
By clicking on the "Download ClubManager" button, you can download a free evaluation copy of ClubManager, which is fully functional but is limited to 25 club members.
System requirements:

PC with Windows 98, Me, 2000, NT, XP, Vista, 7, 8 and 10. &nbsp&nbsp&nbsp&nbsp&nbsp&nbspYes, it works with Windows 10
Minimum of 16 MB RAM.
Minimum screen resolution 800 x 600.
Pricing:
The price for a single site licence is £120.00. This is a one time payment which includes technical support by phone/email and upgrades when available. The program can be networked at no extra cost.
Features:
Up to 10,000 members
Up to 30 membership options
Simple membership renewal
Attach photographs of members
Set up club events (eg knockouts, round robins)
Seed knockout competitors
Produce draws for knockouts and round robins
Graphical booking diary for courts, tables, etc
Option to print club logo on receipts

POS for merchandise sales
Password protected setup
Data file backup
Comprehensive reports
Option to export reports to Excel
Manual as HTML document
Produce mailing lists for members (eg requiring renewal)
Print membership cards
Reminders
New in version 2.3: send e-mails to members from ClubManager.
End user licence agreement | How to uninstall the program
ClubManager is published by GrenSoft. Clicking on the download button will take you to the primary distribution source for ClubManager software.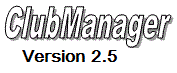 Software for club management
by GrenSoft
Phone: 01157 180244





For recommended POS hardware please visit
The Epos Store.